There are some theme tunes and title sequences, for television shows, that go down as icons in their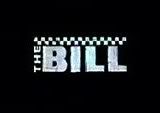 own right. For example the Doctor Who theme is hugely iconic and instantly recognisable and although its opening titles have changed greatly over the years they are all so identifiable with the series. The Bill's theme is one such iconic piece of music and the "walking feet" that accompanied its end credits for years are also highly iconic. So enjoy them once more as, through the wonders of You Tube, those feet go plodding once more.
These are perhaps the most famous pair of legs, just legs mind you, to grace an end title sequence of a television drama. As The Bill theme plays out and the credits roll these legs, and feet, walk down a cobbled street – so simple and yet so effective. Sadly these feet no longer patrol the streets of Sun Hill while the titles play out but their memory lives on and here they are enjoy along with the rarely heard extended version of the theme tune.